Interview with Kate Curley, of Madeira Walking Football (MWF).
(MWF) Dear Kate. Thank you for giving us the opportunity to interview you here for our MWF blog. Can you start telling us about yourself? For example, did you play sports before and how long did it take you to become interested in walking football?
(Kate) My name is Kate. I am originally from Bristol, England, but I moved to Brent Knoll in Somerset in the 90s then moved to Madeira almost 3 years ago. I haven't played any sport for a while. I played 6-aside football before I had children. I also played squash, enjoyed swimming and went to the gym before I suffered from back problems. I heard about the walking football from a friend who lives on the island and, after a couple of months of thinking about it, my husband and I decided to give it a go.
(MWF) Have you played walking football before? And how many times in a week do you play?
(Kate) No, I never even heard of it before I joined MWF but now I play twice a week.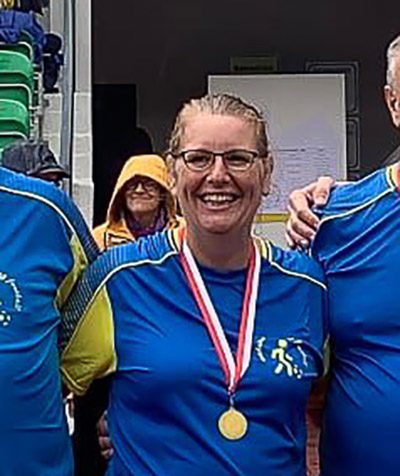 I didn't ever imagine I'd be scoring goals or enjoying it as much as I do. I just feel that I belong. It's great fun – I don't think I have laughed so much.

Kate
(MWF) Why do you think Walking Football would be interesting to play here on Madeira Island?
(Kate) I just thought I needed to do a bit more exercise and thought I would try it.
(MWF) Have you felt fitter and healthier since starting Walking Football, and if so, in what ways?
(Kate) I definitely feel a lot fitter since I started playing. I've lost weight and the stairs and hills seem much easier to climb
(MWF) And as for the other team members… what do you think of them? Did you meet new friends while playing Walking Football?
(Kate) I have meet some of the nicest people from all walks of life since playing MWF. Everyone is so welcoming and friendly, and I have got to know them and their partners better at the extra curricular activities (after training drinks).
(MWF) Has your social life changed since you started playing, and if so, how?
(Kate) Yes I think it has, we already have friends on the island and enjoy meeting up with them and love joining in the dinners that are arranged. Now I am even busier and have a more structured week with more get togethers to look forward to.
(MWF) If you hadn't played Walking Football… would your life be different?
(Kate) It definitely would be! It's easy to be a bit lazy here, not going for the walk you promised yourself you would do and then each day can be a bit of the same.
(MWF) Describe the buzz you feel when you have the chance to play a team sport again. Or compare it to another activity.
(Kate) When I first started, I thought I would be ok at football. I didn't ever imagine I'd be scoring goals or enjoying it as much as I do. I just feel that I belong. It's great fun – I don't think I have laughed so much. Win or lose, everyone just plays and they (shout) clap for goal scoring even if it's the opposite team or near misses.
(MWF) Besides walking football, what is your favourite sport or activity?
(Kate) I've never really been sporty. I just enjoy walking and swimming.
(MWF) Have you played in tournaments on Madeira Island? And what was your experience?
(Kate) Yes I did and I loved it. The whole experience, whether we were playing or shouting support for the other team, it was all great fun.
(MWF) Do you agree that Walking Football is a safe sport and that everyone over 50 can play?
(Kate) Definitely, I would recommend it to everyone. Two of my sisters and my brother-in-law joined us while they were visiting and they loved playing it.
(MWF) What are your fondest memories of playing walking football? And what do you think could be improved?
(Kate) The training leading up to the tournament was exciting. I would prefer longer sessions as it just seems to go so quick.
(MWF) What do you like most about Walking Football starting to happen in Madeira Island?
(Kate) I like how open and easygoing everyone is and how welcoming they are to new players.
(MWF) What does it mean to you to live on Madeira Island? And the people and their culture?
(Kate) I love it here! Everyone is happy to help and welcoming, I just feel so comfortable here.
(MWF) Speaking of walking football again,… do you find it hard NOT to run when you play?
(Kate) No, I just walk very fast! Haha
(MWF) And are you a competitive player/person? Or are you just for the fun part? Or both?
(Kate) Both! I love to win and enjoy getting there, equally. I love being part of a team and playing for fun.
(MWF) Do you think that this year Madeira Walking Football will be a new (and even bigger) event on the island?
(Kate) Hopefully, the tournament was a great event and I look forward to the next one.
(MWF) What advice would you give someone eager to play but nervous about approaching a club or taking part in a walking football session for the first time?
(Kate) Just come along to watch and see for themselves how much fun it can be.
(MWF) How do your friends and family feel about your return to play in a sport at your age? And what does your wife think?
(Kate) I think they think I'm bonkers, but they are pleased that I am keeping busy and socialising.
(MWF) As MWF just started this year, what is your take on the organization so far? And would you like to get more involved with certain MWF tasks?
(Kate) Its well organised and I do appreciate the time and effort that the organisers put in.
(MWF) Is there anything else you would like to share?
(Kate) Just keep up the good work!