Interview with Danny, one of the Madeira Walking Footballers who recently joined this year our MWF team.
(MWF) Hi Danny. Thank you for giving us the opportunity to interview you here for our MWF blog. Can you start telling us about yourself? For example, did you play sports before and how long did it take you to become interested in walking football?
(Danny) My name is Danny and I'm from the USA in the south Louisiana. I am happily retired in Madeira after a very long and interesting career in the oil and gas industry. Madeira is magical in many ways and happy to call it my home.
(MWF) Have you played walking football before? And how many times in a week do you play?
(Danny) I have never even heard of Walking Football until July of 2021 while I was still living Tokyo Japan before moving to Madeira. I was following many Facebook Madeira island sites and came across this sport that immediately interested me. I sent a message to Phil as directed by the site and the rest is history. As soon as I arrived in Madeira I met Phil and Wil in Santa Catarina Park for a practicing session and now I am learning every week and improving my game weekly as well.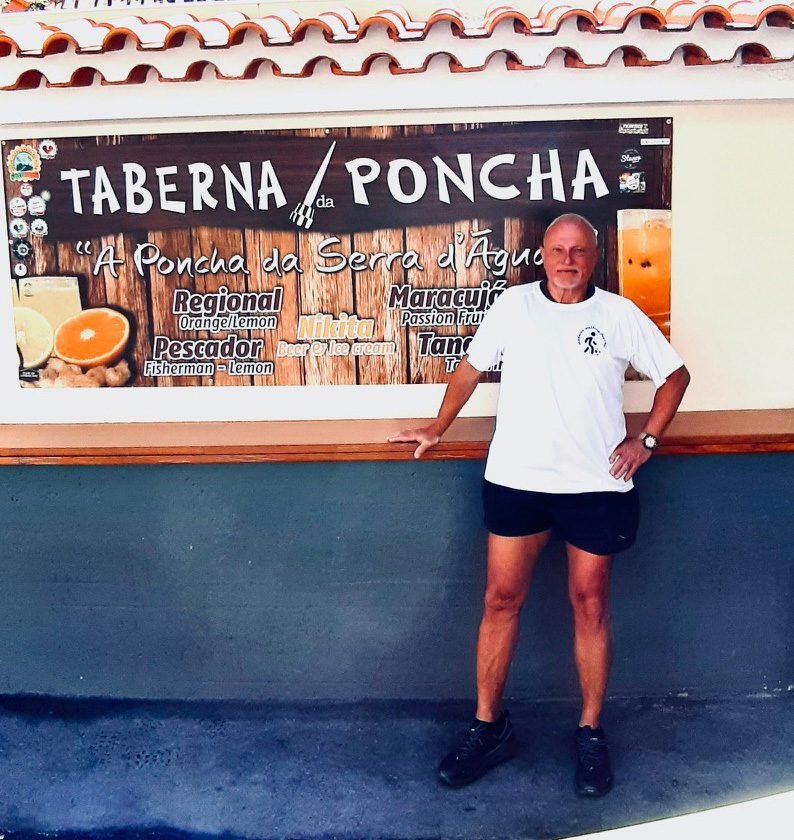 What Walking Football promotes is not just fitness and health but great friendships as well. I am extremely happy with how everyone accepts each other as a teammate and family member as well.

Danny
(MWF) Why do you think Walking Football would be interesting to play here on Madeira Island?
(Danny) Basically from my research of the island being very popular with retirees and pensioners, this is a great way to stay active and meet wonderful people in the process from many different countries.
(MWF) Have you felt fitter and healthier since starting Walking Football, and if so, in what ways?
(Danny) I think I speak for everyone on the team that each week we can see our fitness and health improving as well as our teamwork. It is all about working together as a group and improving as each week comes and goes.
(MWF) And as for the other team members… what do you think of them? Did you meet new friends while playing Walking Football?
(Danny) What Walking Football promotes is not just fitness and health but great friendships as well. I am extremely happy with how everyone accepts each other as a teammate and family member as well.
(MWF) Has your social life changed since you started playing, and if so, how?
(Danny) Primarily I have gained a mentoring group that have been very supportive in helping me improve my game. In that process you could say that we have established a great social club as well. 
(MWF) If you hadn't played Walking Football… would your life be different?
(Danny) Living in Madeira there are many things you can involve yourself in to stay busy and active but nothing compared to Walking Football. I have always been interested in soccer or European football. But this is my first time to actually participate and learn this game. My life is much more happier now that I can play and improve weekly with my new friends and teammates.
(MWF) Describe the buzz you feel when you have the chance to play a team sport again. Or compare it to another activity.
(Danny) Well the weekly practice sessions are the highlight of my week. You have the opportunity to feel the competitiveness of the sport as well as making you feel younger and full of energy to compete. I believe I speak for the whole team regarding the buzzy feeling. 
(MWF) Besides walking football, what is your favourite sport or activity?
(Danny) My favorite hobby is being a member of Hash House Harriers Running Clubs in many different countries around the world, basically trekking through jungles and staying in good physical condition. I will always be a hasher, but now I am a footballer in Madeira Island and loving it.
(MWF) Have you played in tournaments on Madeira Island? And what was your experience?
(Danny) Well we have just completed or first tournament last Saturday and the  Madeira Walking Football Fun Team  won all of their games All of our weekly practice sessions really paid off.
(MWF) Do you agree that Walking Football is a safe sport and that everyone over 50 can play?
(Danny) Certainly agree that this sport for our age group in extraordinarily safe and highly encourage any following the many blogs and groups to come by and check us out. I am sure you will want to join.
(MWF) What are your fondest memories of playing walking football? And what do you think could be improved?
(Danny) Well for me personally I am learning many new techniques that I have never done before and I have plenty of help from everyone to keep me improving my game. As for improvement, I think all of the committee members are doing a great job maintaining our club and just keep on doing as you are now. Everyone is happy 👍👍😂😂
(MWF) What do you like most about Walking Football starting to happen in Madeira Island?
(Danny) Meeting new people on a regular basis as the sport is becoming more known now.
(MWF) What does it mean to you to live on Madeira Island? And the people and their culture?
(Danny) For me it is all about safety and the friendly people always making you feel at home on the island. This is important for me and my wife.
(MWF) Speaking of walking football again,… do you find it hard NOT to run when you play?
(Danny) I think everyone finds not running very hard but that is what makes it fun as well, not running.
(MWF) And are you a competitive player/person? Or are you just for the fun part? Or both?
(Danny) Mostly fun but really liking the competitiveness more and more as I am learning more every week.
(MWF) Do you think that this year Madeira Walking Football will be a new (and even bigger) event on the island?
(Danny) I see nothing but a great future for Madeira Walking Football on the island this year. The word is getting out for sure.
(MWF) What advice would you give someone eager to play but nervous about approaching a club or taking part in a walking football session for the first time?
(Danny) Just come by and watch us play. Watch how we communicate and interact, watch how each team member helps each other out  and then you decide if this is for you. Don't be shy ,we are welcoming group of people.
(MWF) How do your friends and family feel about your return to play in a sport at your age? And what does your wife think?
(Danny) My wife is a big fan and she plans to play once she arrives on the island. I have many friends around the world that follow me as well.
(MWF) As MWF just started this year, what is your take on the organization so far? And would you like to get more involved with certain MWF tasks?
(Danny) I am always open to doing my part and doing more to help out any way I can. I think everyone feels the same way.
(MWF) Is there anything else you would like to share?
(Danny) I am grateful to be a part of MWF and I appreciate everyone's help weekly to teach me the sport. Great fun and now I have a new family Looking forward to our next tournament.