Can you start by telling us about your background? For example, whether you were a sporty person when you were young, and how long did it take you to become interested in Walking Football?
Phill: I played competitive football at a senior level (against men) from the age of 15 until the age of 50. Then I gained a diploma in Sports Psychology and went into football management for a few years. When I retired from working in 2016 there became a void in my life and after reading an advertisement for Walking Football I joined a newly formed club and became fully involved in the running of it, which I have now done successfully and with great satisfaction for the past 4 years.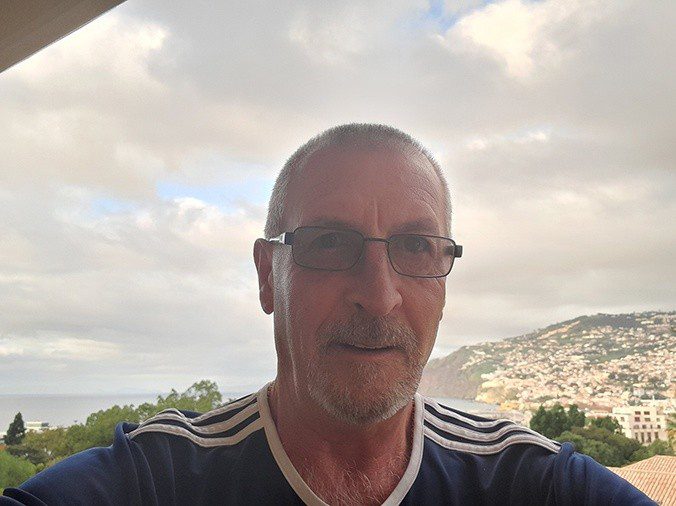 Why do you think Walking Football would be interesting to play here on Madeira Island?
Phill: With an ageing population on Madeira (16% of which are over 65's) I think it would become very popular as a form of exercise.
How many times a week do you participate in Walking Football sessions?
Phill: I played once a week.
Have you completed a first aid training? Or do you know someone with first aid knowledge could accompany the games and practices?
Phill: I have held a First Aid certificate in the past, but that has now lapsed.
What are you currently doing in your training sessions that you think is important to avoid injury and require additional safety precautions due to your medical condition?
Phill: A 10 minutes "warm up" before the session starts and a 10 minutes "cool down" at the end of the session is paramount, this helping with recovery from the session and reducing the risk of injury.
Have you felt fitter and healthier since you started Walking Football and if so, in what ways?
Phill: Yes, I lost excess fat, my general all round health improved the more I played.
Has your social life changed since you started playing, and if so, how?
Phill: Yes, as well as the sessions, we socialise once a month, have a drink, tell our stories and have a laugh.
If you had not become involved in and had not played with Walking Football, how would your life look different?
Phill: I would be "stuck in a rut" with the same routine as before, put on weight.
Describe the buzz you get when you get the chance to play a team sport again.
Phill: The banter, the good fun, we laugh with each other, even when we make mistakes.
Have you played competitive Walking Football and, if so, in which tournaments/leagues?
Phill: I have played in competitive "friendlies", which is good but some players take it too seriously, which takes some of the fun out of the game.
Has your diet changed since you started Walking Football? If so, what is different?
Phill: Yes, I eat more fruit and vegetables and think more closely at what I eat, the old saying "you are what you eat" being so true.
Can you describe any injuries you have sustained while playing Walking Football and let readers know how they were caused?
Phill: I once played in a "friendly" for 90 minutes without sufficient breaks and suffered knee ligament damage, which kept me out for 3 months. Any injury sustained in older age does not heal in days or even weeks, it can take months as in my case, which is why I now insist that games are 15 minutes, and then take a 3 minute break before starting again.
What are your best and worst memories of playing Walking Football?
Phill: The best memories, to see the improvement in the groups fitness, health and well-being over a period of time and also being thanked by the group for organizing and making the sessions enjoyable. The worst memories, losing a member who suffered from Parkinson's disease and a member who suffered from Alzheimer's disease, both of them suffering deterioration in their health during the 5 month lock down in the UK, after Walking Football gave them something to look forward to and enjoy. There is a message to be taken from this, Walking Football is seriously helpful.
What do you like most about Walking Football?
Phill: Seeing the improvement in the groups fitness, health and well-being over a period of time.
What do you like least about Walking Football?
Phill: The end of a session, knowing it will be a week before playing again.
Do you find it difficult NOT to run and what advice could you give someone to keep walking pace?
Phill: Yes, as anyone who has played football will admit. Keep telling the group "one foot has to be in contact with the ground at all times" even when not having the ball.
What are your goals for the future when you play Walking Football?
Phill: To get as many people as possible playing the game and the benefits they will get.
What advice would you give to someone eager to play but nervous about approaching a club or attending a Walking Football session for the first time?
Phill: Come along, have a look, see how friendly we are, bring your training shoes as you will want to join in, you will be made most welcome.
How do your friends and family feel about your return to sports at your age?
Phill: Pleased to see me enjoying something I can do, being passionate about it and inspiring others.
What are the costs involved in order for you to play Walking Football for footwear, kit and weekly session fees?
Phill: A pair of trainers, socks, shorts and T-shirt, shop around, I use Decathlon. The weekly session fee will depend on what the venue charges us, but that should be minimal.
Is there anything else you would like to share?
Phill: Come and try Walking Football, you won't know if you like it or if it is for you until you try it!