Interview with Helen May, one of the Madeira Walking Footballers who recently joined this year our MWF team.
(MWF) Dear Helen. Thank you for giving us the opportunity to interview you here for our MWF blog. Can you start telling us about yourself? For example, did you play sports before and how long did it take you to become interested in walking football?
(Helen) I'm from Northumberland, England and came to live in Madeira 7 years ago when I retired. I have never liked participating in sports and it took a long time for me to be persuaded to try walking football. Thanks to Wil for not taking "no" for an answer – I now wish I had done it sooner.
(MWF) Have you played walking football before? And how many times in a week do you play?
(Helen) I've never played football, I didn't even know that I had to kick the ball with the inside of my foot. I wish I had a euro for every time I had uttered the words "I am well out of my comfort zone here!" I should win a gold medal for being the consistently worst player on the pitch though I think there is a rumour going round that I am improving. I'm now playing twice a week in the hope I will get better twice as fast.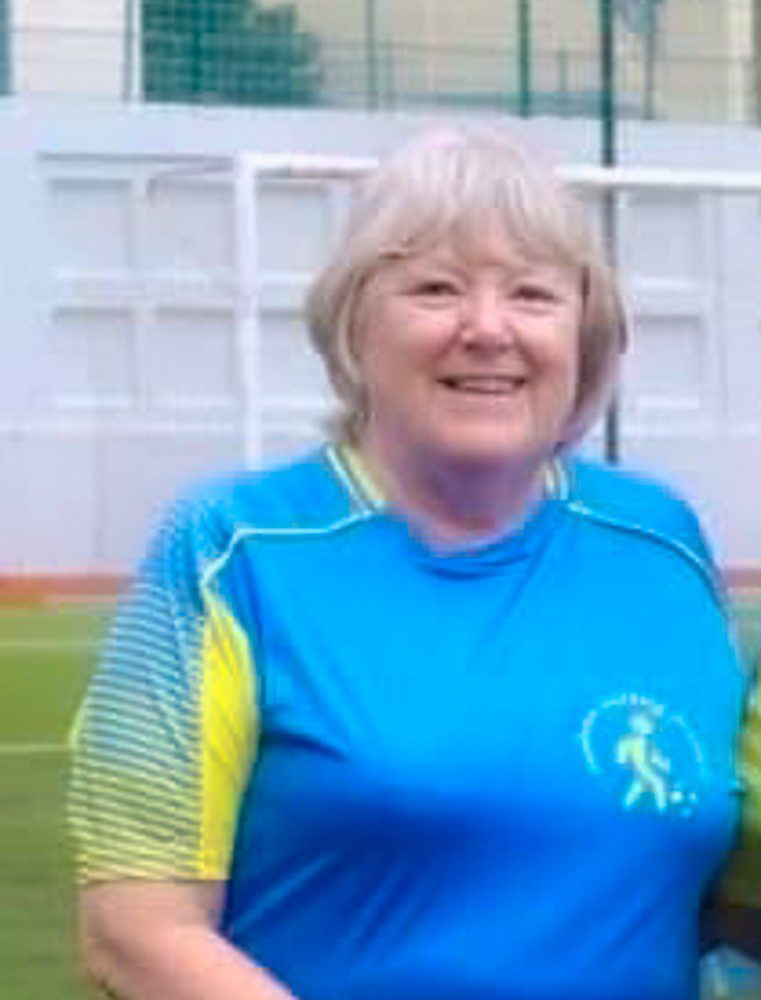 I've never played football, I didn't even know that I had to kick the ball with the inside of my foot. … I think there is a rumour going round that I am improving. I'm now playing twice a week in the hope I will get better twice as fast.

Helen May
(MWF) Why do you think Walking Football would be interesting to play here on Madeira Island?
(Helen) There are a lot of older people living on the island, many who may not be fit enough to play more active sports and the climate here means it's possible to play outside all year round.
(MWF) Have you felt fitter and healthier since starting Walking Football, and if so, in what ways?
(Helen) I'm sure I am much fitter since I started playing but I haven't been playing long enough to see a big difference. Ask me again in a year's time!
(MWF) And as for the other team members… what do you think of them? Did you meet new friends while playing Walking Football?
(Helen) The other members are a crazy bunch and they are so encouraging all the time. Some members have played football in the past but they don't mind playing with a beginner.
(MWF) If you hadn't played Walking Football… would your life be different?
(Helen) I've made new friends and doing something like this is good for the soul as well as the body. It's never too late to learn something new. This has been a challenge for me but I'd really miss it if I couldn't play.
(MWF) Have you played in tournaments on Madeira Island? And what was your experience?
(Helen) My only tournament has been the one in Ribeira Brava on 25th February, one of the wettest days of the year but none of us allowed it to damper our spirits. I can't describe the feeling of euphoria when we received our gold medals. It truly was a day to remember.
(MWF) Do you agree that Walking Football is a safe sport and that everyone over 50 can play?
(Helen) I think it's relatively safe but there is always the chance that a player could trip and fall over but that could happen anywhere. Some players wear pads to protect their knees.
(MWF) What are your fondest memories of playing walking football? And what do you think could be improved?
(Helen) Scoring goals! Never in my wildest dreams did I ever believe I could score a goal. It's also very special to play with the USRB team every Friday. Their enthusiasm is infectious.
I hope we can encourage more people to come and join us, at the moment, we don't have enough people on Mondays to have a Fun Team as well as a Competitive Team (as we do on Fridays) and I think that would be better for those of us who don't play so well.
(MWF) What does it mean to you to live on Madeira Island? And the people and their culture?
(Helen) I first fell in love with Madeira 17 years ago when I came on holiday, I said then that it was the only place in the World that I'd visited where I felt I could live. The rest is history as they say! The people are so friendly here and the lifestyle suits us well. I feel so blessed to be able to live here.
(MWF) Speaking of walking football again,… do you find it hard NOT to run when you play?
(Helen) Don't be silly, of course I don't!
(MWF) And are you a competitive player/person? Or are you just for the fun part? Or both?
(Helen) I've never been competitive (that's in evidence every time I play!) It's still nice to score goals though.
(MWF) Do you think that this year Madeira Walking Football will be a new (and even bigger) event on the island?
(Helen) I do hope so, I'm certainly spreading the word whenever I can and I hope people will think "If Helen can do it, I certainly can". I have an 80 year old friend who is currently undergoing treatment for cancer. He is an ex-footballer and coach and he's listened very patiently to me telling him what I do every week and he is very keen to get involved when he's finished his treatment.
I have friends in other parts of the island who would also love Walking Football sessions in their area as it's not easy for them to travel to Ribeira Brava. If I can do anything to help make this happen, I will. One friend is in her early 70s and told me that she would have loved to have played football when she was younger, but there weren't any opportunities for women.
(MWF) What advice would you give someone eager to play but nervous about approaching a club or taking part in a walking football session for the first time?
(Helen) I'd recommend they come along, meet the team and watch us train and play. That way, they can see for themselves that there is no pressure. Our coach always stresses that FUN and FITNESS are more important than FOOTBALL.
(MWF) How do your friends and family feel about your return to play in a sport at your age?
(Helen) They are as amazed as I am that I have taken up walking football at the age of 67, particularly because I have never done anything like this before. The words "we're proud of you Helen" have been used quite a few times.
(MWF) As MWF just started this year, what is your take on the organization so far? And would you like to get more involved with certain MWF tasks?
(Helen) MWF has come a long way in a very short space of time, without a doubt due to the hard work and dedication of Phill, Wil and Don. I would be happy to be more involved and will continue to spread the word.
(MWF) Is there anything else you would like to share?
(Helen) Not long after I joined MWF, I remember telling our Coach that I Ioved doing the warm-up and the training before the game but that I wasn't so happy playing a game. That's all changed – I love it all now.